Latest updates featuring Karina Grand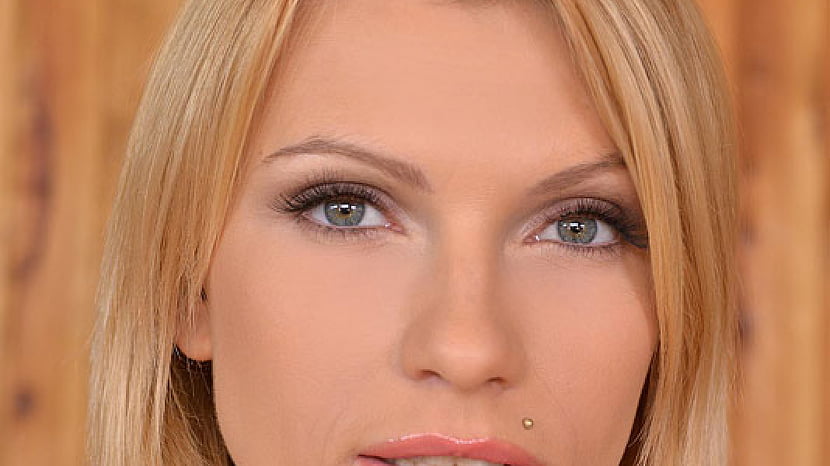 "They're going to use me...yes!!!" thinks Moldavian beauty Karina Grand in our sizzling new threesome scene. The thought makes her twat tingle and throb. Yes, she finds herself in the sauna with Markus Dupree and Nick Lang, who don't hesitate to drop their towels and expose their lascivious logs to her gaze.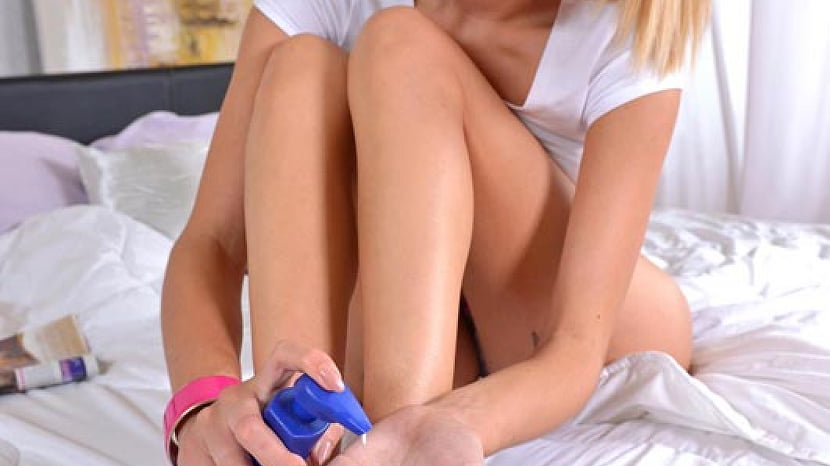 The bus strikes again!! No Girl is safe with the bus roaming the streets! This time around the Spain crew found themselves a nice little Ukrainian girl named Karina. Karina and her boyfriend ran out of gasoline on the road. Stranded with no way to a gas station, our boys "helped" them out. With only room for one more in the van, of course it the boys took Karina to the gas station. She was grateful for the ride and the free gasoline. That gratitude came in the form of a nice fuck session, before returning her to her stranded boyfriend.
Karina Grand isn't shy about getting naked and lying down on a mattress on the floor so that Denis Reed can entice her tanned body with a sensual massage. In turn, Denis isn't shy about diving in to Karina's juicy pussy to let the blonde know exactly what he wants from this encounter! Eager as always, Karina makes use of plenty of lotion to lube up Denis's erection. Using her hands and even her bald twat to spread the lotion, the blonde quickly drives her lover wild with excitement all while watching her lithe body in action in the mirror. When her first climax ripples through her tight frame, Karina eagerly slides up so that her snatch is now placed conveniently over Denis's mouth. He knows just what to do, licking and sucking on Karina's dripping folds until her moans of ecstasy indicate another release.Her body still humming with pleasure, Karina finally presses down onto her lover's cock to fill herself up the way she craves. She kicks off a stiffie ride that starts out with slow measured thrusts but soon gets wild and crazy the longer her humping lasts until she's going full tilt to get her snatch stuffed.Wanting to deliver the best pussy pounding he can, Denis switches spots with Karina and urges her to spread her legs for full access to her snatch. Once he slides in, he quickly sets a pile-driver pace that only gets faster when he gets his woman up on her knees for some doggy style fun. Denis is nearing the end of his endurance, so as Karina sinks to the ground with her groans of pleasure filling the room he comes dangerously close to losing control. It only takes Karina a few moments of work with her hands and mouth to bring her man to his ultimate pleasure as he squirts his load all over her waiting face and mouth.
Karina Grand enjoys a sensual makeout session with Kristof Cale in the scenic backdrop of her patio garden, but the lovers quickly decide to come inside for the main act. Karina wastes no time in dropping to her knees and wrapping her warm lips around Kristof's erect cock so that she can lick and suck him to her heart's content while slowly shedding her clothes until she's down to just her thong.Kristof can't help but enjoy the magic that Karina is working with her tongue, but he wants in on the action, too. Pulling her around so that he can eat out her creamy bald pussy, he dives in to his treat while the blonde babe simultaneously continues her blowjob and grinds her hips into his face. The horny 69 continues until Kristof slips Karina's thong off, leaving her delectable body bare and ready for a good fucking.Karina kicks things off by crawling down her lover's body until she is poised to mount Kristof's cock in reverse doggy style. Her man gets to lay back and watch Karina's perfect booty bounce as she does all the work thrusting her hips and riding her personal fuck stick. Craving a more intimate connection, the blonde eventually turns around so that she can stare into Kristof's eyes as she continues to enjoy her horny ride.Finally Karina gives up control, getting down on her hands and knees so that she can enjoy some doggy style loving. Kristof is the perfect stud, starting with long slow strokes until Karina is squirming beneath him for something harder that he's glad to deliver. It doesn't take long for the blonde to come apart as her orgasm crashes through her slender body.Falling to her side, Karina opens her legs for some spooning sex as Kristof slides into her juicy bald pussy and kicks off thrusting so hard that the blonde's small tits bounce. Karina's final climax is still shaking her body when Kristof reaches the end of his endurance and pulls out, covering his lover's belly and smooth mound with his cum in a warm and sticky end to their lovemaking.