Latest updates featuring Blue Angel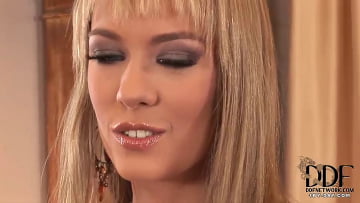 18th February
- The legendary Hungarian model Blue Angel is at her best today as she gives us quite a show in an elegant bedroom. Almost immediately lifting her frock
, this hot babe displays her incredible derriere, its firm round cheeks bisected in the crack by the merest wisp of a black lace thong. Rolling around on the bed for our detail-oriented DDF cameras, Blue finally reveals her naked clam and asshole. WOW! You're going on a closeup journey into her tasty crotch complete with glistening oil on her snatch and rosebud as she probes them with her fingers. You'll feel like a "micronaut" standing on the edge of the anus of a giantess thanks to our lenses wh...
...Read More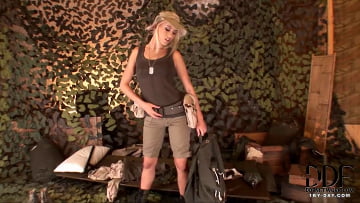 4th October
- Blue Angel is out on maneuvers today...maneuvering, that is, to get a very susceptible part of your anatomy out of your pants and get you tugging as s
he dresses up in army fatigues and plays with what looks like a policeman's club. Well, maybe she's supposed to be an MP...Minx Police, perhaps? Because Blue is quite the minx as this Hungarian hottie slips out of her khakis and starts masturbating herself with that shiny black club, warming up her pink with some rubbing and then cramming the shaft into her veeg as she smiles and encourages us to match her stroke for stroke on our own rigid clubs, which will undoubtedly spring to action once we get t...
...Read More