Latest updates featuring Sasha B.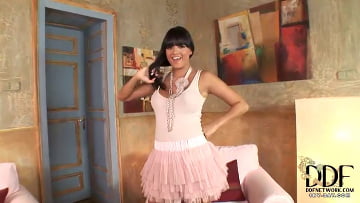 13th December
- Beautiful brunette Sasha B. from the United Kingdom is dressed up in some flirty finery today, but when she sits down on the chair and opens her legs,
her secret is out: she has a spot of moisture right in the middle of her light blue panty, revealing that she is very aroused to be posing. Quickly she leans back and slides her fingers into her underpants to feel the gathering wetness in her pie, recognizing that it needs deep treatment immediately in the form of a huge lavender vibrator which she sucks and then rubs against her damp slit. Pulling aside her panty for maximum freedom, she lifts up her long legs so that she can stuff herself with the toy....
...Read More